Upcoming District Meetings
District Meetings will be held in July for TCEC members living in Districts 7, 8, & 9. In accordance with Article III, Section 7 (a) of the Bylaws of Tri-County Electric Cooperative, Inc. district meetings will be held for the purpose of selecting person(s) as candidates for trustee. This year, District Meetings are scheduled as follows, with all meetings starting at 6:00 p.m.: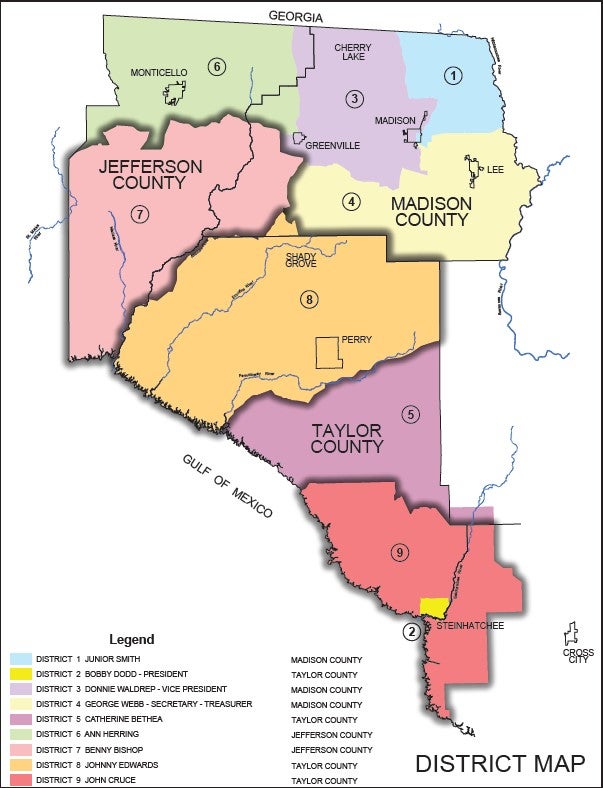 District 7
Friday, July 21
St. Phillip AME Church
8 Phillips Road
Monticello, FL 
District 8
Tuesday, July 18
Lake Bird Methodist Church
2960 Lake Bird Church Road
Perry, FL
District 9
Thursday, July 20
Blue Creek Baptist Church
21070 Beach Road
Perry, FL
 
Democratic Member Control is one of the seven cooperative principles we follow at TCEC, and part of our members role in preparing the cooperative for the future. By electing TCEC Board representatives for each district, members are ensuring a voice in the decisions of the cooperative. Upcoming district meetings to be held in Districts 7, 8, and 9 provide a great opportunity to meet with fellow members in your neighborhood.
By attending your district meeting, and electing a member as your district trustee, you have an opportunity to be involved in your co-op and meet current TCEC trustees and staff to discuss the things that are important to you.
Any member who intends to be nominated and elected at a district meeting for the position of Trustee, may download a Notice of Intent form at www.tcec.com/notice-of-intent, or pick up a form at any TCEC district office. Return completed form to Eileen Herndon, Vice President of Corporate Services (850.973.8024) at the headquarters office in Madison, Florida at least 21 days before the District Meeting at which Trustees are to be elected.